Our Secrets To Guilt-Free Indulgence
Posted by Janelle Brown on
It's almost Valentine's Day, but those heart-shaped boxes of chocolates have been tempting us since the day after Christmas. We've somehow managed to abstain from the allure of truffle-filled goodness, but our craving for sweet treats is still very much alive!
This got us thinking that there has to be a way to indulge without sending yourself down a shame spiral of sugar and regret.
So we turned to our favorite food blogs for some sweet inspiration, and it turns out we were right! We found dozens of great recipes that fit our healthy lifestyle standards while also satisfying our aching sweet tooth. We tried a bunch and narrowed down our absolute faves.
Check out the too-good-to-be-true-but-they-really-are-that-good recipes that have forever changed that way we celebrate St. Valentine (and any other excuse to eat dessert first). Special thanks to the bloggers for letting us use their images and share their special recipes!
OUR LOW-CALORIE LOVE
Angel Food Cupcakes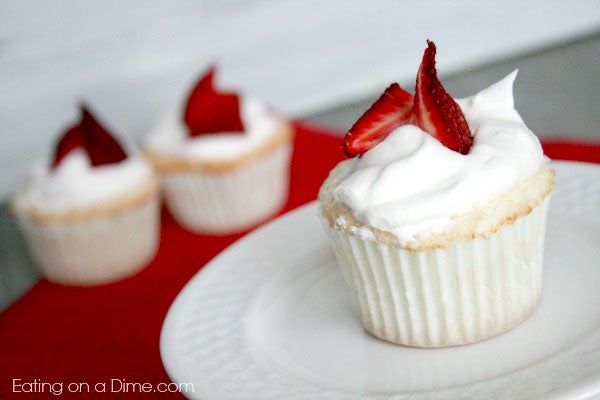 Image by Eating on a Dime
For those counting calories, dessert can be out of the question. Until now. Coming in at only 60 calories, we had to taste this cupcake to believe it. Not only were these babies a breeze to whip up, they were absolutely heavenly! Get the recipe for this piece of paradise here. 

OUR CHOCOLATE OBSESSION
Greek Yogurt Chocolate Banana Muffins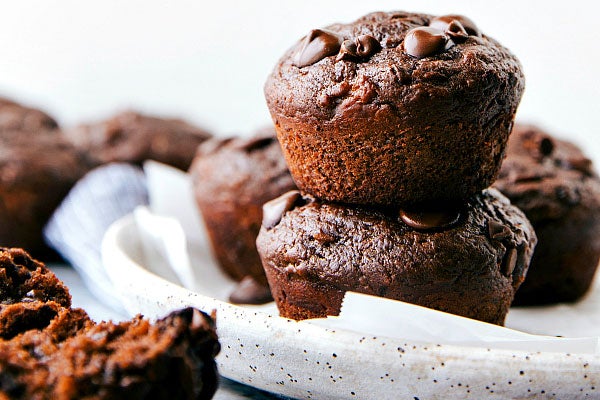 Image by Chelsea's Messy Apron
Sometimes you just need a little chocolate in your life, right? We found this recipe while looking for a delicious way to use up some extra bananas we had thanks to an overzealous day at the Farmers Market. (They just looked so good!) One bite was all it took to become addicted to these muffins, and now we find ourselves "accidentally" buying one too many bananas on a regular basis. Get this crazy-good recipe here.

THE REAL DEAL
Skinny Raspberry Cheesecake Bars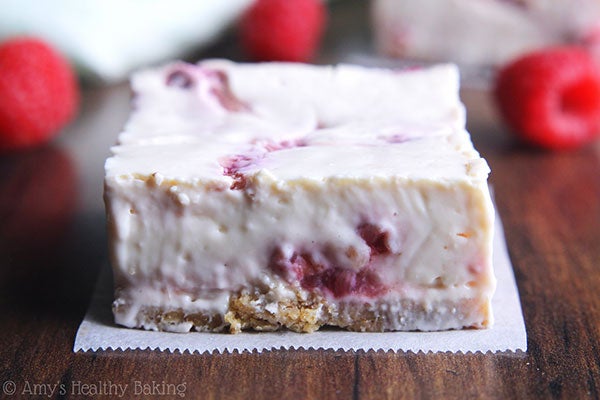 Image by Amy's Healthy Baking
Raise your hand if you LOVE cheesecake but not the remorse you feel after giving in to its decadence? (Just so you know, we're raising both hands). When we found this lightened-up cheesecake recipe we have to admit we were a little skeptical. We've attempted "guilt-free" versions before and they just left us wanting the real thing even more. But those days are gone. Not only is this nearly identical to "guilt-full" cheesecake, it's packed with protein goodness thanks to the cream cheese, and also gives a nice dose of fruit. Get the recipe here.

GOOEY GOODNESS
Black Bean Brownies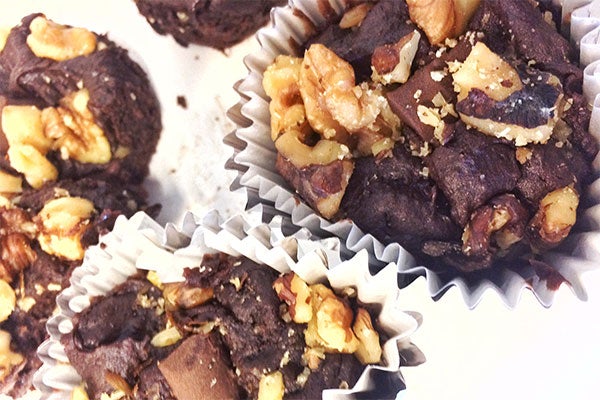 Photo by Virgen Vegan
We love the thick, fudge-like texture of brownies, but not the unhealthy ingredients that usually come along with it. We searched for a healthier alternative that gave us a similar consistency without sacrificing flavor and found this gem. Full of real food like black beans, avocado and walnuts, this recipe is an amazing way to enjoy one of our favorite desserts! Try the recipe here.
Imitation really is the best form of flattery, and we're hoping these recipes do the sweet-talking for you this Valentine's Day!
Do you have a low-guilt love to share? We'd love to add to our repertoire so let us know in the comments!
---
Share this post
---
---
---
0 comments